The Born Again Pagans - The Band
The Born Again Pagans are a loose group of tight musicians (some of them drink a bit too) from around the globe who live in various parts of Japan and are an active part of its now thriving foreign music scene. Their high quality of musicianship has allowed Rhodes to constantly play new material & let the magic mix of various cultures, influences and genres spark in a creative chaos united within his carefully composed songs. They have produce 4 studio CDs, Ripe(2005), the acclaimed The Emergent Sea (2009) and Rivers (2015)  and Rains 1 (2017) With over 250 original songs are always itching to get into the studio to record more.  They have performed regularly in the Kansai area for the last 20 years at various bars, hotels, restaurants and festivals.  They always attract a crowd as they provide an exciting mix of original and reinterpreted covers with inventive instrumentation, all live & real with no electronica.   
The musicians come from a variety of musical backgrounds: folk, rock, punk, classical, jazz, celtic, world, and blues creating a new folk-fusion sound, full of energy and fresh ideas. Some of the musicians are professional musicians playing in many bands. Some have day jobs.  All have a deep love of music and keep on playing despite the many obstacles, time, financial, etc. that make life as a musician simultaneously easier and more difficult in the 21st century.   
Since 2017 the main live line up has been as follows:(See full bios below.)
Moray Crawford:  Drums and Backing Vocals
Frank Daulton: Bass
Kim Kanel: Harmonica, Vocals
Ted Ostis: Lead Guitar
Roman Rhodes: Acoustic Guitar, Vocals.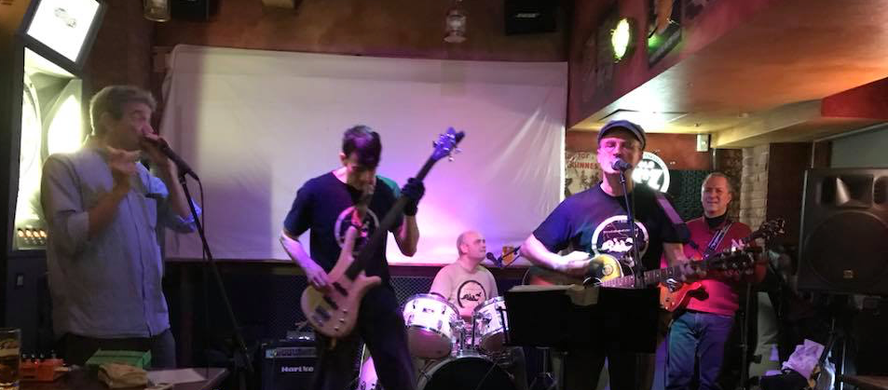 But they are often joined by a variety of violin, banjo, flute, saxophone, trumpet players from around Japan, the West and Africa, making for exciting fresh sounds.  Don't miss this exciting show full deep lyrics and tight music.  
2017 saw the occasional addition of 
Tadashi Koba:  Erhu;  Larry Ransome: Jembe;  and old time Pagan Tim Wiltshire  all who feature on the new album
 New & temporary pagans: Shigeo Kobayashi: Bass and Tsuyoshi Matsuo: Lead guitar,  Atieno Kevin Owino: Jembe
 also Boris Igwacho, and Erivc Savadogo : Jembe: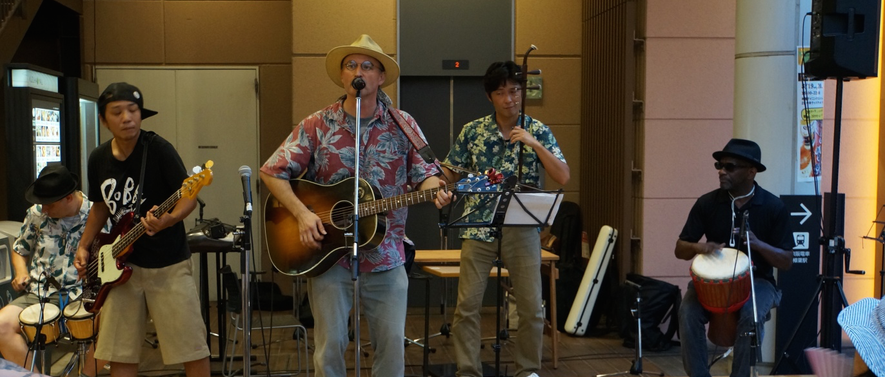 The previous live line ups include:
Atsushi Akazawa: Bouzouki, violin, sanshien      Tetsuo Kondo: bass.      
Kaori Morita:  Flute                                          Yasuhiro Nakamura:  Electric guitar  
Tatsuto Nakamura: Flute, bass clarinet               Koari Niwa: Sax                               
Atieno Kevin Owino: Jembe                               Masa Suzuki: Lead Guitar                         Andy Beresford: Bass            Andy Gilligan: Guitar.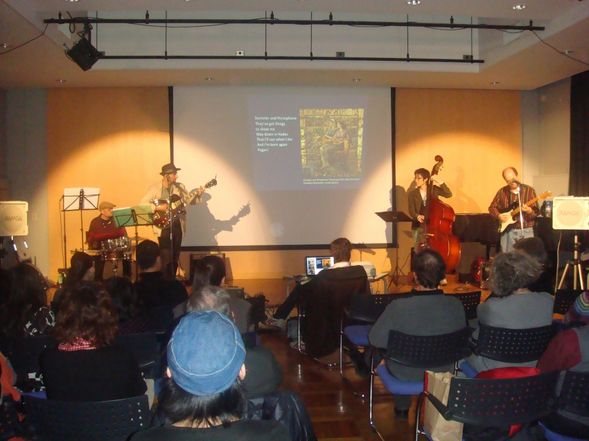 Regular and previous recording artists with the band include:
Paul Fleisher: (NY City-Osaka): Winds (sax, flute, clarinets, picolo etc.)
John Hulaton: (Hawaii- Nara) Trumpet & Flugel Horn
Atsushi Akazawa: (Kyoto)  Sanshien, Violin, Bouzouki.
Steve Muller: (England- Kobe) Piano. 
Christopher Fryman:  (Canada- Kyoto) Trumpet.
Tim Wiltshire: (West Virginia-Yonago) Electric & Slide Guitars, Banjo, Violin, etc.                   Chika Togashi: Vocals
Reiko Daimon: (Nara) Oboe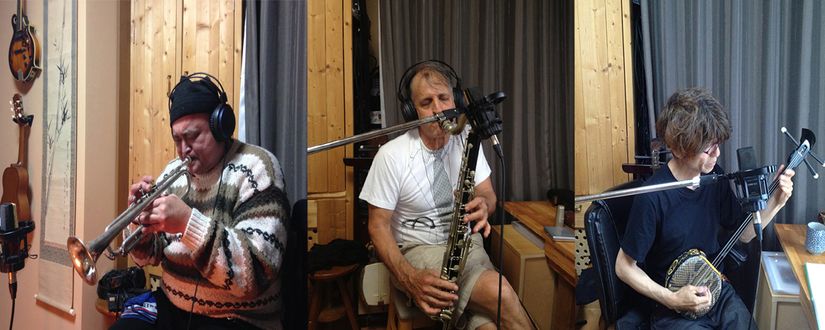 Osaka Original regular live members were: 
Tim Wiltshire:  Electric Guitar, Mandolin, Harmonica, Slide guitar, banjo,  etc.
Mark Williams: Bass
Masa Suzuki: Electric guitar
Maryse Dumas: Flute
Reiko Daimon: Oboe.                                                                                                                            Moray Crawford: Drums
And here I will just say et cetera, because the list goes on.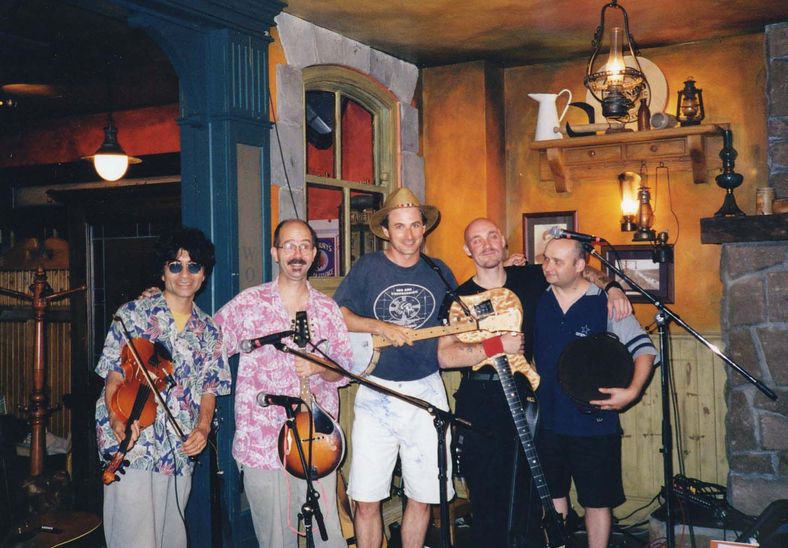 The bios of the more recent and most prominent members are provided below.
Roman Rhodes - Singer, Songwriter, Guitar, Banjo.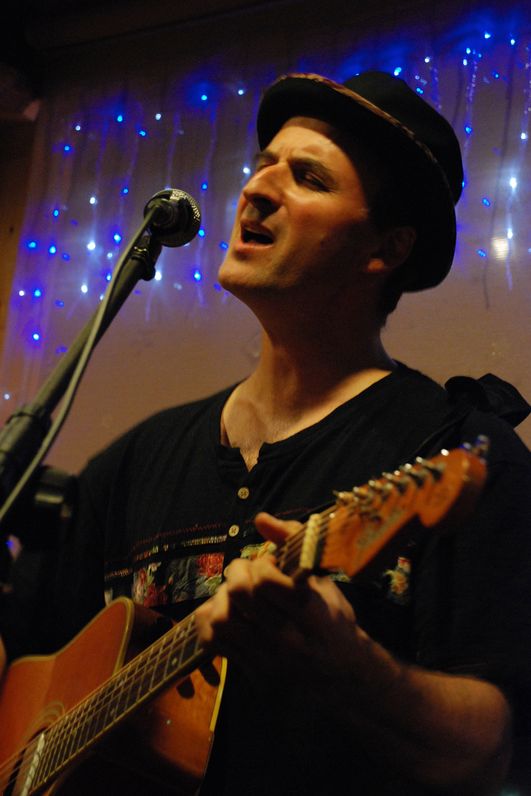 From Quebec, Canada, Roman Rhodes is the founder, singer songwriter and guitarist for the Pagans.   Over 250 songs to his name, he has written for the  Canadian Celtic band Orealis, for professionally produced plays, and had his song A Million Thanks sung by choirs at the World Parliament of Religions in Spain.  Child of a piano teacher, grandchild of a pianist, great grandson of a Rhodes' organ, he grew up with and is heavily influenced by classical music, but found his voice and love in Canadian and World folk, Celtic, 60s rock, and old jazz.    On the albums he also does the recording, mixing, plays guitarlele, banjo, bass and keyboards.   An ancient historian by training, a teacher by survival, a farmer by interest and diet, a musician by nature, and an environmentalist by default, inclination and reason. He has also acted as vocal trainer for Ryukoku University's burgeoning Broadway Musical circle in Japan. For Rhodes music is meditation, healing magic, fun and message combined, as well as a means through which he hopes, in however humble a manner, to reawaken in others the sense of the sacred in life, especially in regards to nature.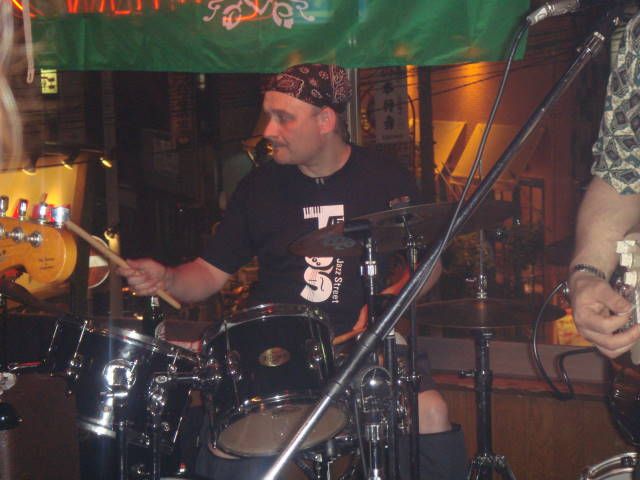 One of the mainstays of the Pagans, Moray has been drumming with the band since the Dubliner's Irish Pub days back in Osaka (1999-2004). Moray burst into the Edinburgh post-punk indie music scene on drums and vocals with "35mm Dreams" in the late 70s. He recorded on their debut 7" "More Than This" in 1980 and the follow up 7" "Fasten Your Safety Belts" in 1981. Since then he has recorded on vinyl with "Buba and the Shop Assistants" (drums), before moving to Japan and recoding with Shonen Knife (udu) on their album "Heavy Songs". He has also played in "Cat Dancing" (drums) , "The Mitubishi Electric Light Music Orchestra" (guitar), "The Flower Brothers" (drums, vocals), "Combo Congas" (drums), Osaka Stainless (drums), "The Born Again Pagans" (drums / percussion), "My-T-Hi" (guitar, vocals) and "Shigeo and Moray" (acoustic guitar, vocals). Aside from music he is actively involved in fire protection, and the development of safety standards for the semiconductor industry. Currently Moray continues to play in and around Osaka with "My-T-Hi", "The Born Again Pagans", and "Shigeo and Moray".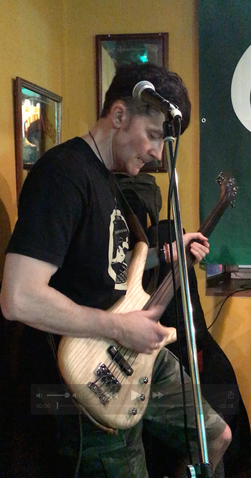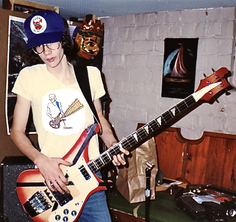 New Pagan, Frank Daulton, the Gentle Giant's groove fits so well with the band, it feels like he's always been a pagan.  Frank has been playing since the 8th grade. Likes a dichotic approach to bass: bridging the melody of guitar and vertical impact of percussion. (Likes to say, 'I control the horizontal'.) Enjoys headless and fretless basses, in addition to his old-school Fender. Loves technically difficult, percussive fills – inventing a few and adapting more. Has roots in progressive metal but appreciates any genre. Frank was a major force behind the last CD.
Kim Kanel - Harmonica, Vocals

Kim "Slim" Kanel was the founding lead member of the Osaka band Bad Luck and Trouble with Bancho Nakamura 2002.  Due to troubles and bad luck the band fell apart, and this was a bit of good luck for the pagans.  His soaring and inventive harp has brought a whole new sound to the band, matching the variety of 60s rock, celtic blues and alternative music the band plays.   He took up the harp after his old band asked him to put down his guitar and requested he only sing.  Not feeling comfortable standing around the stage doing nothing, spent a summer on a sudden inspiration back in his native LA mastering the harp.  A quick learner, he truly flies on his solos.  He is a very welcome addition to this new incarnation of the Pagans.