The Japanese High School National Summer Championship at Koshien Stadium:
Yes, Canada, baseball can be exciting, or How Steppenwolf and Queen Played the Game and Both Came out Winners.  By Keith Wesley Adams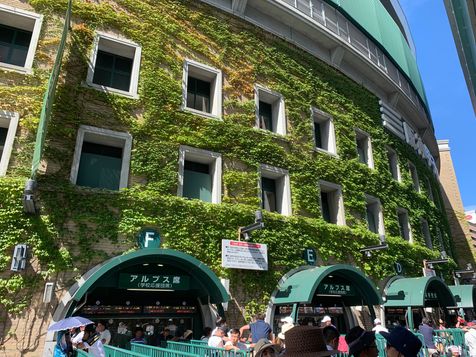 1. (The famous ivy laden entrance wall of Koshien stadium, Osaka Japan. Photo: Keith Adams)
I'm not a big fan of spectator sports. If I watch them I get very excited, make loud noises of joy, shock and disgust, and generally carry on your like your average barbarian, even so, I almost never watch, cheer no teams, and have been to only about 2 games in my life.  I never feel I am missing anything, especially when it comes to baseball. I guess I have the typical Canadian prejudice against it as boring. I mean where's the ice? Where is the graceful, skillful, continuous action? Where are the fist fights?
 Athletically speaking, a friend who worked in a hotel that put up many professional sports teams summed up for me the difference between baseball and "real sports":  When the NHL players stay before a game, they are in bed by 8 O'clock at night and up at the crack of dawn.    When the Major Leaguers stay before a game, they're up until dawn and are doing crack all night.  However when I came to Japan 22 years ago, I saw another side of baseball that cracked my prejudice: the National Summer High School Championship at Koshien Stadium.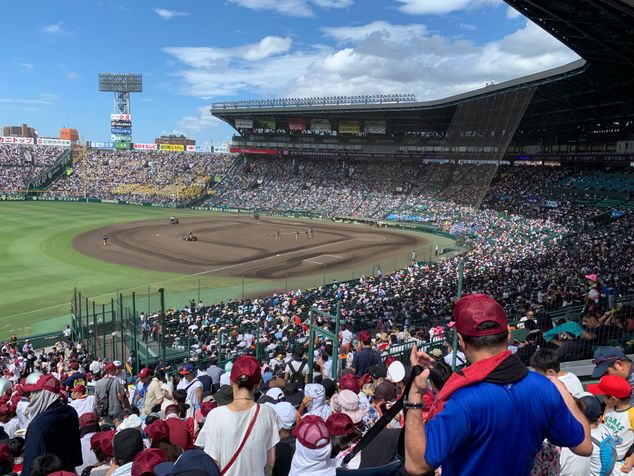 (Inside Koshien Stadium before the game.  Viewed from the Ritsumeikan Uji stand. Photo: Keith Adams)
 For Canadians to understand why Koshien baseball is exciting, you have to understand the context.  Imagine if absolutely every high school in Canada (x3 for Japan's Population) had a hockey team that practiced minimum 4 hours daily, 8 on holidays, and at the end of the year they competed in a provincial tournament that was televised.    Then the 15 to 18 year old winners of those provincial championships went on to play against the other provincial winners in the Montreal Forum (ok Molson Centre) and it was not only televised nationally, but people actually watched.  I mean the whole nation watched.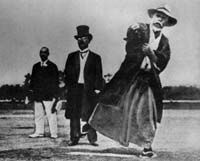 (The first ceremonial pitch for the National Summer Championship, 1915. Photo: Public Domain)
The Koshien Championship Tourney, which began in 1915, takes place in the almost week long summer holiday called Obon in August, when people go back to their hometowns to visit the graves of their ancestors.  Millions of people stay home and spend the day in their grandparents' air-conditioned houses with the whole family, and watch it on TV.  Every bar, bistro and restaurant has a TV on and customers and clerks are glued to it, service slows down, but everybody is happy drinking beer, eating edamame or shaved ice.   People in the tens of thousands travel from across the country to participate, and people in the hundreds of thousands fill up the stadium during the two weeks of the Tourney.   Often the crowds wait hours in the 38 degree Celsius, 60% humidity weather of August to get a ticket. 
Also imagine (back to our Canadian analogy) that the most outstanding players would be  picked-up immediately by the NHL, so that the students playing knew they had a chance to graduate high school and walk right into a professional sports career. That's what the National Summer Baseball Championship at Koshien stadium is like: high school kids getting a chance to play in a professional stadium, live on national TV, with a chance to make or break their sports career. The emotion is raw and roaring. The effort and stress is tangible.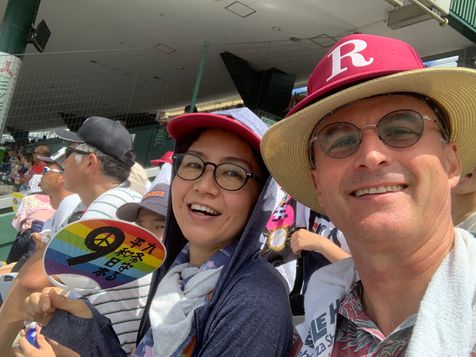 (Wife and I in the bleachers for the game with out Ritstumeikan hats. Photo: Keith Adams)
Parents, brothers, sisters, school mates, the girl you're secretly in love with, are all in the stands among the 30,000 fans.  Your high school band plays your anthem and cheerleaders both male and female shout and jump wave pompoms (okay the males mostly shout and the females mostly wave pompoms, Japan is not fully enlightened yet) all in support of  these hormone and hope filled teenagers. If you make a great play, get a run, you'll be a local hero. If you drop the ball, your error will be witnessed across the country, and preserved in some national archive and you will be known the rest of your life among your high school friends as the guy who won or lost the game.... At the end of 9th inning, there is as much uncontrollable weeping as there is euphoria.  The drama is enormous.
 My daughter's high school baseball team, Ritsumeikan Uji, made it to Koshien this summer and we went. They got in by beating the Kyoto provincial champions two weeks earlier in an underdog upset.   My usually staid, pharmacist wife watched the televised winning provincial game, which she recorded, four times.  However, my daughter's brass band club had their provincial band competition on the same day, and so they missed the first Koshien game, which Uji also won.  Their 2nd game was against the long running best high school team in Japan, Seiryo from Ishikawa.   US major league players like the famous home run batter, two time All Star and World Series MVP, Hideki "Godzilla" Matsui, who played for the New York Yankees, came from this school —straight out of high school into the Japanese leagues and then onto the Majors.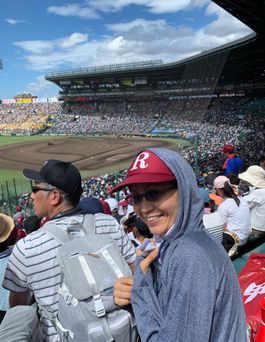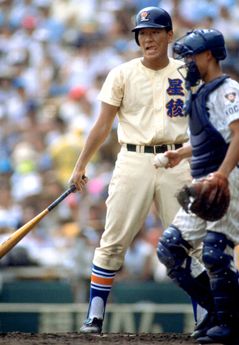 (Wife in serious baseball heat protection garb.) (Hideki Matsui, plying for Seiryo High School in in the infamous 1992 game where he was intentionally walked to avoid his getting a homer. By chance, my wife was at that very game.)
Seiryo had been beating many teams with scores as high as 12-0.   Ritsumeikan Uji was the clear underdog.  Uji has only one pitcher, who has to play the whole game, Takagi-kun.  Seiryo on the other hand has four. Seiryo was so confident  that they announced before the game they were pulling their best pitcher and putting in their 2nd rank.   Their 2nd rank pitcher was still amazing, and at the end of the 5th inning with the score 5-0, it looked like Seiryo had it stitched up, with Uji barely getting any hits, only reaching first base by walks.   Then, feeling over-confident, Seiryo switched in their 3rd rank pitcher.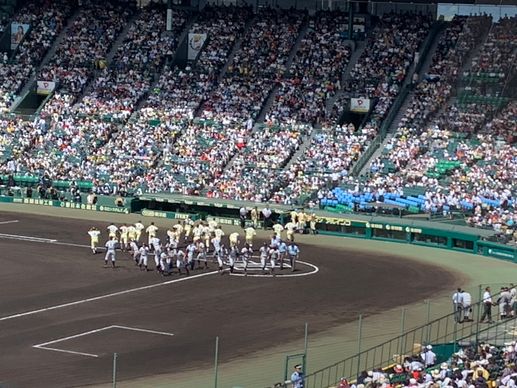 (Seiryo Yellow and Uji White, head to benches after ceremonial bow. Photo: Keith Adams)
To be Honest, at 5-0, I was starting to get bored.  Every time Seiryo was at bat, they managed to load the bases.   Takagi-kun would start off with a number of powerfully pitched strikes, getting two outs, and then he would weaken.  A number of balls and hits followed and the bases loaded.  Then suddenly Ritsumeikan would pull of an amazing hit-catch-throw-out combination that got their 3rd out and blocked Seiryo from scoring.   It was the same pattern every inning.  It seemed it was only inevitable that one time Uji would miss and Seiryo would score a crushing four points run.  Uji's spirits would then sink, and Seiryo would take advantage of the slump with run after humiliating run.  Every time Seiryo was at bat, I waited for the inevitable womping that make would Uji's team return home depressed and embarrassed.    It was a drama I did not wish to watch unfold.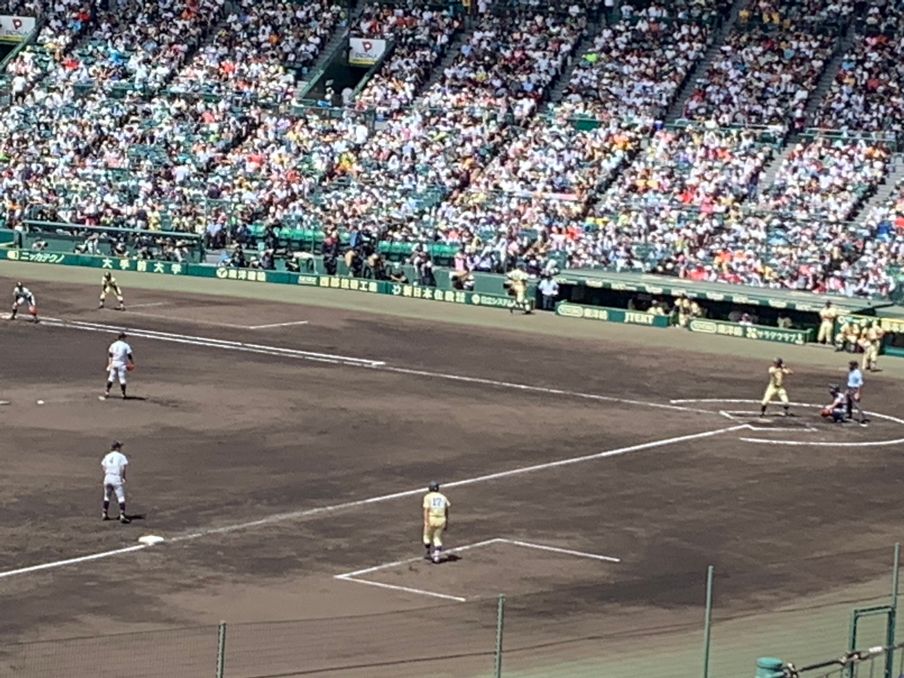 (Seiryo at bat. Photo Keith Adams.)
Further, I know nothing about the rules baseball and I was annoying my wife with questions like, "Why doesn't the batter on first run to second right away when there is a fly ball?"   Apparently, he has to wait until it is clear the ball is not caught.   "What good is that?"  Apparently, it would make it too easy.   Ah, too many rules.  Certainly, the number of rules must exist in proportion to the lack of action, or the ridiculousness of the concept of the game in the first place.  Baseball requires too many strict limitations to make it work.  I suppose that's why it is Japan's favorite sport, it teaches socialization.   I was a soccer player as a child, and love the freewheeling, beauty of the sport, how you never know what may happen.  It cannot be so easily reduced to statistical averages like baseball.  I was getting bored enough to notice the searing heat.
To amuse myself, I started changing the rules to get more action into the game.    For one, I wanted more running, more fluidity, less stopping.   In the baseball game of my mind, I added more balls and batters.  Simultaneously.  Further, batters could run in various patterns, not just in a straight line to the base.  Short stops –many more of them too—could chase and tackle the batters after a hit, but they had to wear protective padding and head gear, because the batter ran with the bat and could use it.  I also played football in highschool (the Canadian version of the American sport) and loved the war like strategies.  By the top of 6th inning, I was imagining whole rows of blockers running with the batter after a hit, and the defense team making sweeping battering ram movements to keep the batters from reaching a base.   It was total chaos, but the melee was worth it.
Then things suddenly changed in the actual game. In the bottom of the 6th, Ritsumeikan Uji, My daughter's team started hitting the ball and getting on base. They soon had two runs with bases largely full. The champions called a time out and brought in their star pitcher, Yoshinobu Okugawa, who boasts 154 km/hr pitches.   A cheer went up from the stands, even on the Uji side, because it was an admission Uji was giving Seiryo a scare, that Uji had a chance.  Even with their best pitcher, Uji got another run.  It was now 5-3.   It looked like Uji could make a come back.   Tension and drama had returned to the game. 
The music also adds to the drama of the game.  Each team brings its brass brand, and they choose a number of songs.  My daughter's band chose a lot of Queen, of course the main rock anthems: We Will Rock You and We Are the Champions.  Seiryo's band repeatedly played a powerful blasting brass rendition of what at first I thought was some wild traditional song. It sounded like something that would be played at a gladiator games in a Roman amphitheatre in some avant garde Italian movie.  Then I realized it was Steppenwolf's Born to Be Wild!  How surreal: Japanese baseball cheered on by western 60s rock classics played by brass bands.   
There was another music story during the game.  My daughter's school is close to the famous animation studio in Uji, Kyoto Anime, that was burnt down last month by a disgruntled young man, leaving 33 people dead, and many of the countries greatest animators gone forever.   This tragedy was international as well as national news.  So when in memory of the victims, Uji Ritsumeikan's band played Three Star Dream from Kyoto Anime's acclaimed movie, Hibike Euphonium, the cameras all turned away from the game and onto the band.    It was a moving tribute.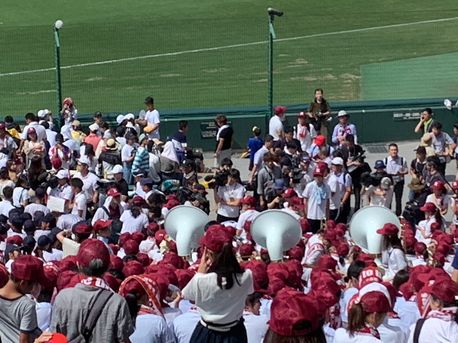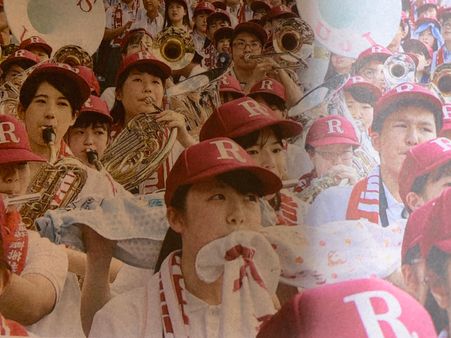 TV and Newspaper Cameras covering the band. Keith Adams) (Ritsumeikan band--my daughter on baritone sax, left—play Kyoto anime studio's song Star Dream 3, Photo: Daily Yormiuri.)
In the end the stronger team, Seiryo with their 4 pitchers, won 6-3.  Steppenwolf trumped Queen.  Though it seemed there was a questionable call by the umpire when Seiyo's number one pitcher threw what looked like a fourth ball but the ump called it a strike, breaking the running streak of the underdog team Uji.   However, reviewing on TV, which my wife of course recorded, it seemed a legitimate call.  No commentators mentioned it.  Likely it was just us emotion filled, hopeful Ritsumeikan parents and students who perceived it differently from our distant seats in the bleachers.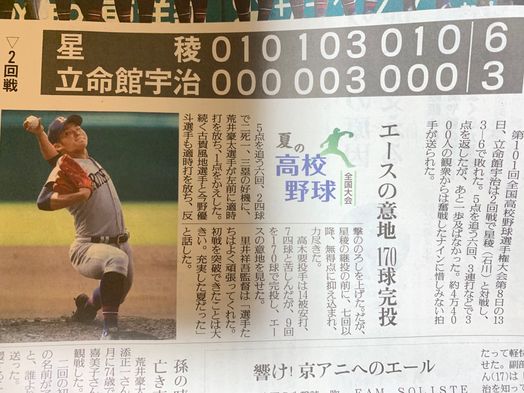 (Uji Pitcher Takagi and the final scores. Photo: Daily Yomiuri)
And it is the emotion that makes the high school baseball so exciting: the raw energy, the youthful perception of the importance of an event, which in the grand scheme of things is just a silly game.  I have always agreed with the ancient Greek philosophers who thought we gave too much attention, applause and reward in our lifetimes to our Athletes whose names will not be remembered in 100 years, and not enough to the scientists and thinkers who change the course of history and are still talked about 2000 years later.   Yet it is easy to get caught in the emotional drama of young players who try their hardest, and the energy and hope they inspire in their entire school or nation.   While Ritsumeikan lost, they played their best and gave the best team a scare.  They lost only by 3 runs. They are rightly proud of their effort, none at least will look back with regret.  They were not crushed.  All left feeling they ARE Champions, and that they can "climb so high, never want to die," because in the end its not if you win or lose, but how you play the game.