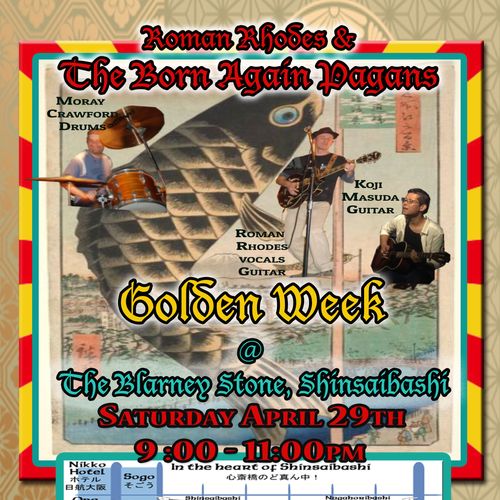 Live Saturday 29th April, 2023
Golden Week
Shine in Golden Week with the Pagans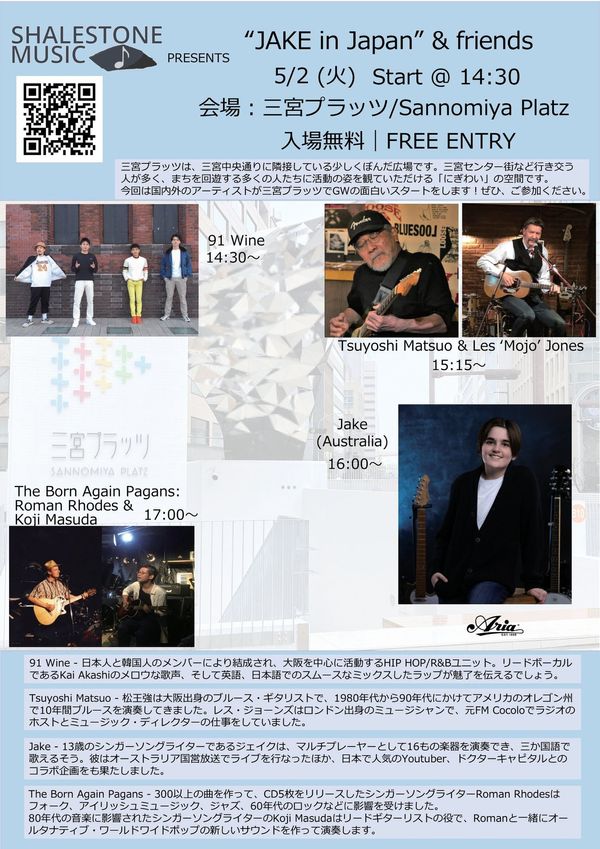 A bit about the band and music (Click on bio for more)
Folk-Roots West at its World Inspired Best.  Alternative World Roots:  Country-Celtic-60s Folk Rock-Jazz-Blues-Asian Fusion.    Unique, united and inspiring.     Melodic, lyric Based Music with Meaning!  Music to heal your mind and soul.
There's a place I'd like to take you, all your parents sons and daughters.  It's a magic place that will heal you: the source of the Sweet Waters
From: Roman Rhodes' "The Sweet Waters," on Rains 1, 2017
Roman Rhodes is a  Singer Songwriter with over 300 songs to his name in a large variety of styles.  He founded the Pagans in Montreal in 1986, and they were born again when he moved to Japan in 1997.  They have played continuously for the last 23 years in bars, festivals and hotels in Osaka and Western Japan.  While members revolve, many of the original members are now in its present incarnation: 
Moray Crawford: Drums,   Mark Williams: Bass;                                                                                                        with newer members  Kim Kanel on Harmonica & Koji Masuda: Lead Guitar  
Throughout these years the Pagans have always remained a Multicultural, Multinational band: Pagan in thought, pagan in word, pagan in deed and pagan in sound and that sound is ECO-ROCK: 60's folk roots world fusion.  The message: Peace, Nature and Equality. 
"Tunes that celebrate life and nature with a keen inventiveness, both musically and lyrically...evokes...California coastline vistas on warm summer nights.  (Radio Indy)
"A feast for the ears, mind and spirit," (I.M.E)
 "Like a flashing, shimmering silver wall Jumping like lightening up a waterfall...  Will clear you head like a forest fire,wake your mind with the waking dreams sparking like a real live wire... Will heal your mind and heal your soul, jump in it, drink it, it will make you whole."  
 From Roman Rhodes' "The Trees Once Grew High,"  The Emergent Sea,  2009